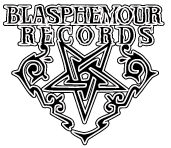 About Us
Blasphemour Records and Distro
Blasphemour Records was founded in 1999. Origially located in New London, CT, we released our first album "One HELL Of A Compilation." This CD featured some of the best metal and hardcore bands of the time. Songs from Goatwhore, Skinless, Abnegation, Psywarfare, Deformity, Burial Ground, Deadeyesunder, Length of Time and more. Later that year we released our second album, the classic "Murder Within Sin" by Deformity. Our 3rd release was to be "Infernal Punishment" by Burial Ground, but due to multiple reasons, including the death of their vocalist, the album was shelved.
Due to time constraints, monetary issues, and various other troubles, Blasphemour stopped operating in 2000. In 2002, Ryan Blasphemour relocated to North Carolina and the label faded. In 2012 Ryan heard a song by his friend Matti Frost and his new project Frost Giant. It sparked the flame that had dimmed so many years ago. Blasphemour was reborn, and would release Frost Giant's debut album "When Myth and History Merged into Mystery."
Since then Blasphemour has released albums from Wandersword, Losing Skin and WirgHata. 2014 will see Blasphemour cross over into the world of vinyl with the release of a split 7" from bands Chaos Order and Werewolf Congress. There is more in the works, so stay tuned to see what is coming.
Thank you for your support.